Welp, it's another week down and lets wind it down with the 5 Question Fridayyy Woohoo!!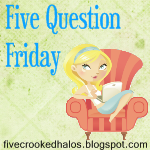 1.
Would you rather be on ABC's Extreme Home
MakeOver
or
TLC's
What not to Wear? What NOT to Wear lol.... I'm so not the type to dress all girly and spiffy, I need to work on that :P
2.
Do you have any tattoos? Nope
3. D
o you tell your kids about things you did growing up? No kids yet!
4.
If the traffic signal turns yellow, do you stop or speed up? Hit the long funny peddle and pray that the piggies (cops) aren't around HAHAA!
5. What's your preference:
chocolate
or chips? Chocolate all day and night bwahhahaaa. I have a SERIOUS sweet tooth!