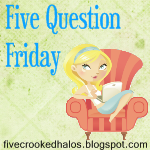 1. Do you

regift

...and if so, do you have a

regifting

horror story?
No, I haven't done any regifting BUT I should so think of that.... specially during this recession lol!
2. Do you know what you are getting for Christmas this year?
Yep, absolutely NOTHING :( but it's okay though. I'm still going to have a VERY MERRY CHRISTMASSSSS
3. Who brings the most gifts in your family, you or Santa?
Santa of course! He's the bossman heheeee :P Shameful, I'm 24 and still loving Santa bwahhaaaaa
4.
What store do you love to by jeans from?
Areopostale, their the ONLY store that have jeans to fit my big butt LOL!
5. Christmas meal: Big, All Out Meal or Snacks and Apps?
Big........ We have to do it BIG on the most important day of the year! duhhhhhh :D