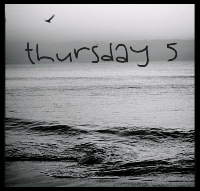 Happy Thursday everyone!!
First of all I'd like to give a big congrats to my previous winner of my giveaway. And second there will be another giveaway here soon so make sure you watch out for that!
Now, on to the Thursday 5. If you do not know what Thursday 5 is, it's where you name 5 things you are feeling for the week and elaborate on them more. It's a way to get to know each other more and to also get more traffic. I hope you enjoy this activity and if you like it jump on the bandwagon, the more the merrier.
Blessed
Loved
Accomplished
Thankful
Hopeful
I am

blessed

to see another day, yet another week. God did not have to give me another second on this Earth but was given that and I am grateful for that.
Feeling

loved

is always a great feeling. I feel loved not just by one person but by multiple people in my life and they all are a great contribute to my success.
By working all week and busting my butt I feel super

accomplished

. I've gotten all my blogging out of the way for a week as well as most of my video's recorded and edited. As you can see I've been on top of my game!
I'm

thankful

for everything I have and everyone in my life thus far. Whether they were tree leaves that have fallen off the branches or whether they are roots to my tree I love you all.
I am

hopeful

for another week full of wellness and joy. It's almost the weekend and I can't wait!!