Hey all my Natural Hair Diva's!!!!!! Guess what today is, heheheee, it's MONDAYYYYYY! It's the start of a new week and we're going to start it off on a good foot. Well it's about that time for the Meet Me On Monday entries :P
Here's my Meet Me On Monday's Questions/Answers! I hope you ladies enjoy them. I also hope you had a marvelous weekend and Happy Holidays ladies :) Take care XoXo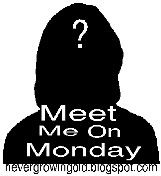 1. How do you order your steak?
WELL Done :)
2. Are you superstitious about anything?
Yes, and I blame my mom for that lol. She has me scared of black cats, making sure I don't split poles, and not crossing my eyes while a rooster is crowing or I'll be stuck with cross eyes LMAO!!!!
3. Who is your best friend (not including your spouse)?
God is my #1 best friend. My sister, whom passed away last year :( RIP. I have a couple of good friends that I might be able to classify as best friends
4. When is the last time your wore a dress (for the guys...a suit)?
hmmmm, the last time I wore a dress was back in August and I wore it just because it was comfortable lol
5. Do you have any trips scheduled?
At the moment no, which is very strange. Normally I'd have trips scheduled and ready to go but idk not this time around *shrugs*