Heyyyy!! It's Monday :P I hope everyone had a marvelous weekend! Well guess whats...... it's MEET ME MONDAYYYYYY! For those of you that don't know what Meet Me Monday is, it's sort of like my Fill-In Fridays just with a different twist on it! If you'd like to join in on the fun feel free to. You can find the trackback link on my site below. Have a great week everyone!!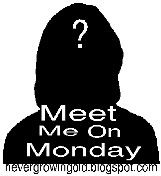 1.
What is your favorite kind of cheese?
American or Swiss.. I'm not really a cheese fan LOL!
2.
What size is your bed?
California King babyyyyyyyyy *slam dunks* :P
3.
What is your most overused phrase?
Really? or Take that and put it in the bag <_<
4.
Green or purple grapes?
Green of course!! Love them sweet <3
5.
Shower, morning or night?
Hell, both! I just get in my mood of wanting a shower and here I go! I <3 baths though
----------------------------------------------------
Oh and BTW, I've posted some new video's on my
YT
channel! Make sure you check them out, rate, subscribe, and comment :P I'd really appreciate it <3's