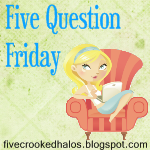 1.
If you were free to just hop in the car and drive, where would you go? Or, if you could hop a plane and go anywhere, where?
If I could get in the car and drive to any place it would be California. I've never been to the West coast before. If I wasn't so scared of planes I would love to just pack up and go visit Hawaii lol
2.
What's your most recently read favorite book?
On The Wright Track by Marion Jones
3.
What's your favorite Spring Break memory?
4. W
hat do you put in your child's Easter basket? Or, for those w/o kids, what was put in your childhood basket?
I had everything from the chocolate bunnies to the marshmello's to a bunny teddy bear! I had it all hahahaaa
5. Do you get a summer haircut?