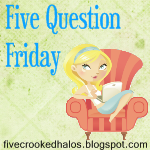 1. What
Christmas song do you loathe?
uhhh my fav. is Santa Baby :)
2.
Do you and your significant other cuddle at night or sleep on opposite sides of the bed?

There are days we cuddle and days we sleep side by side.. it just depends I guess


3.
Have you ever had surgery?
The only surgery I've ever had was a couple years ago when I had my wisdom teeth cut out. They put me to sleep because they had to cut them out. They were only the size of a small pearl at the time. It took me about two weeks to recover. They had me on some serious drugs after the surgery. I barely remember the first week, all I did was sleep LOL!
4.
When do you typically have your holiday shopping done?
Usually I do my holiday shopping maybe the last week of November/Early December. If I haven't had it done by the 17th of December then you can forget about it ahhahaaa!
5. If money were not an issue (and you HAD to pick something), what would your ultimate luxury item be?
Lexus IS