Welp today is Meet Me Monday! So guess whattttttttt. Yep you guessed it, I'm doing my blog on it hheheee :P I hope you all had a wonderful weekend and Thanksgiving. Peace and Blessings everyone!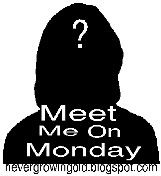 What is your favorite way to eat chicken?
Shoot I don't have a favorite way, chicken is chicken LOL. Ya'll know black folks don't play 'bout they chicken and I'm one of em LOL! I can have it in pasta, a salad, sammy, by itself, whatever... as long as it's done and not pink I'm game hahaaa!
Have you decorated for Christmas yet?
No, definitely need to put that into rotation. I didn't decorate for Christmas last year and I can't do that again. Christmas is my favorite time of year! :)
What is your favorite article of clothing?
My fav. would probably be this one pair of undies I have :) yeah I said it!!! They make me feel sexy HA!
Do you pay your bills online or write checks the old way?
A little bit of both.. :P
Do you make Christmas cookies?
I've never made Christmas cookies, I do make pies though LOL! I will make a pie for each house that I visit on Christmas Day and hand them out. Everyone absolutely <3333's my pies they are begging for my recipe's that I WON'T give my secret ingredients away heheee