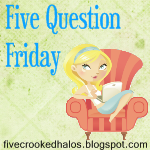 1. W
hat album/cd/download are you embarrassed to admit you have?
Of course I'm hard into Reggae Dancehall and Hip Hop but I have to admit I have N'Sync and Trace Adkins in my collection heheee
2. W
hat's the one thing your spouse does better than you?
Play video games LMAO!
3.
When do you start buying Halloween Candy?
Maybe a week before. I'm such a procrastinator with Halloween. I do it for the kids :)
4.
Family closets - Yay or nay?
Yay
5. W
hich home/cleaning chore do you hate the most? Why?
Cleaning the freaking bathroom! My pet peeve is scrubbing the toilet. I'm very anal about a clean bathroom unfortunately :(